Light Your Haunt With Hacked LED Christmas Lights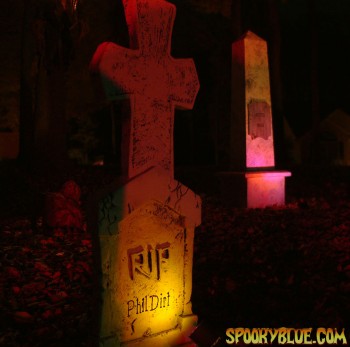 Overview:


Shove a bunch of LEDs into a can, then watch Ohm's Law and Murphy's Law duke it out.
Safely lighting our outdoor haunt has always been a compromise game. Every spotlight comes with an extension cord, and those routes have to be planned because haunt visitors are like free range chickens, or BBs. They go all over. Keeping the electrified snakes from attacking our chickens is a key responsibility that we don't take lightly.
In an effort to reduce the snake population, we investigated other lighting options and came up with what seemed to be a viable alternative: Low voltage landscape lighting.
More...
How to avoid going to parties and meeting people: Make giant Jack-o-lanterns out of paper mache! Name them, construct lengthy background histories about them
Bruno the scarecrow has a son, he's bigger, meaner, and he lives in our garage.
And not a crow for miles around