Build A Flickering LED Candle Amplifier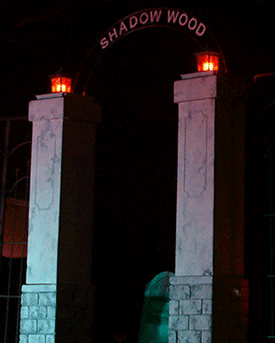 Shadow Wood Cemetery, nestled in the heart of Spooky Hollow, boasts a growing population that enjoys an active nightlife. A pair of flickering LED "gaslight" lamps ensures that everyone finds his way home before sunrise.
How many ways are there to make an LED flicker?
Lots, and solutions range in complexity, from our fairly pedestrian driver circuit, to more complicated arrangements that include timer chips, logic gates, and even a programmable logic controller. As it turns out, making an LED turn on and off in a seemingly arbitrary pattern is a complex task, and the more random-looking the effect, the more you approach a Rube Goldberg device.
More...
How to avoid going to parties and meeting people: Make giant Jack-o-lanterns out of paper mache! Name them, construct lengthy background histories about them
Bruno the scarecrow has a son, he's bigger, meaner, and he lives in our garage.
And not a crow for miles around